…so what will you do if your website disappears from the rankings?
Google have officially announced that their latest Panda update is rolling out right now and will continue for many months to come.
Net result; lots of websites are seeing their search engine rankings jump all over the place.
So if your website is suddenly not where it was last week and the phone has stopped ringing, do you know what to do?
There are three common reactions to this scenario;
1. Panic
2. Blame Someone
3. Create a plan to deal with it
If you ticked #3 as the correct reaction then you are already halfway to recovery, but do you know where to start with the plan?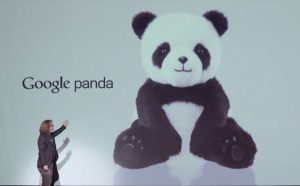 This is where you need professional help
When your car won't start you call someone who knows motors.
When you need help with a legal issue you call a Solicitor.
When you need help with your website rankings you should call a professional who understands search engines.
Sure, this might end up costing you money but how much are you losing if your enquiries dry up?
Free Website Review
Let's make this easy for you; I'll personally offer to take a look at your website and give you a professional opinion on what's wrong and what it will take to put it right.
And I'll review your website FREE of charge.
That's right, completely free and with no obligation to use my Company at all.
Just fill in the form below and I'll get started right away.
It won't cost you a penny.  And you're certainly not committing to anything.  But until you send that form, I can't do anything to help you.
Of course if you like the plan then we can talk about how we can help you recover your search engine rankings.
The sooner we get to grips with those problems the sooner they'll go away.  The longer they last, the more money they're costing you.
So why not send that form now?   It's free and you have no obligation to buy.
Talk to me today and I can help your website rank again.
Jonathan Guy