We've reported for the past couple of months on the record the €2.42 billion EU fine handed down to Google for abusing their market dominance with their Google shopping feature.
The deadline date for compliance, 25th September, has now passed and just in time Google have also changed their Shopping service.
We spotted this in our office on 19th September;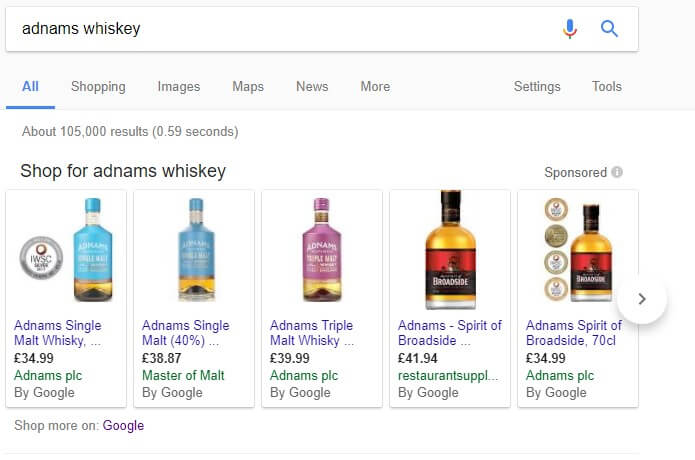 As you can see from the yellow highlighted areas, Google has changed the carousel to show that the offers are 'from Google'. 
This was clearly a 'pre-release' version here in the UK and since 'go live', which was 27th September, it has allowed other Comparison Search Engines (CSE's) to advertise in this carousel. Despite this, however, no amount of searching today (2nd October) can find an example. Here's how it looks in today's search results;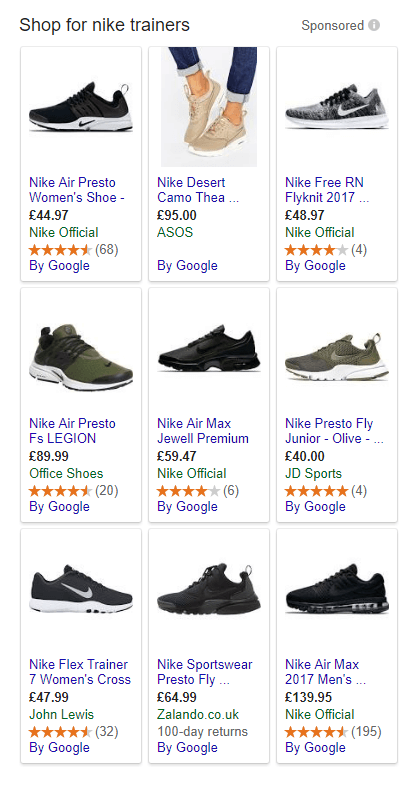 As you can see everything still says, 'by Google' which rather brings into question the viability of this model.
It is supposed to provide equal treatment in the ad auction area by creating Google Shopping as a separate business unit and then allowing other CSE's to bid against them.
The new Google Shopping business unit will have a separate team in the EU that will be responsible for its own operating budget. It must operate profitably and will be reviewed regularly by the EU to ensure the unit is competing on equal terms.
All the ad slots will be available to all bidders; no ad slots are reserved for either Google Shopping or CSEs.
This raises some obvious questions about how it will work for merchants.
For example, if you already advertise on both Google Shopping and Kelkoo then how will your adverts appear in the carousel? Will there be a de duplication process to ensure you aren't dominating by being there more than once?
Also, if you are prepared to bid 50p for an item on both Google and Kelkoo, then which one will show, and why?
Initial reports suggest that there are controls in place to keep merchants that are running ads through Google Shopping and through participating CSEs from bidding against themselves for a given query but currently it seems that it's only showing the Google adverts so it's hard to verify.
This change is only visible in the EU as it only affects results in EU countries where Google Shopping is available. These countries are;
Austria, Belgium, Czech Republic, Denmark, Germany, France, Italy, Ireland, the Netherlands, Norway, Poland, Portugal, Spain, Sweden, Switzerland and the United Kingdom.
Meanwhile, Google is still disputing the fine and this is likely to be stuck in the courts for years to come.
If you need help with your Google Shopping feed then feel free to give us a call. Our team work with this daily and can help you maximise your returns on your investment.