Local businesses should prioritise local search in their marketing strategy to keep thriving now and long-term in a world that is constantly connected.
With mobile search long since having overtaken desktop search and more people in the world than ever constantly connected via smartphones, ranking in local search results has never been more important for businesses.
What is Local Search?
In this digital era people are used to having instantaneous access to information about places and businesses around them at any given time, wherever in the world they may be.  How many times have you consulted your phone in the last month for directions to a business, local business recommendations, business opening times or product stock?
These are the kinds of interactions with businesses that many of us expect to be able to make on a daily basis now.  If your local business is nowhere to be found in local search results then you are falling behind.
Local 'places' appear alongside a map of the area at the very top of search results on both desktop and mobile as illustrated below.
Desktop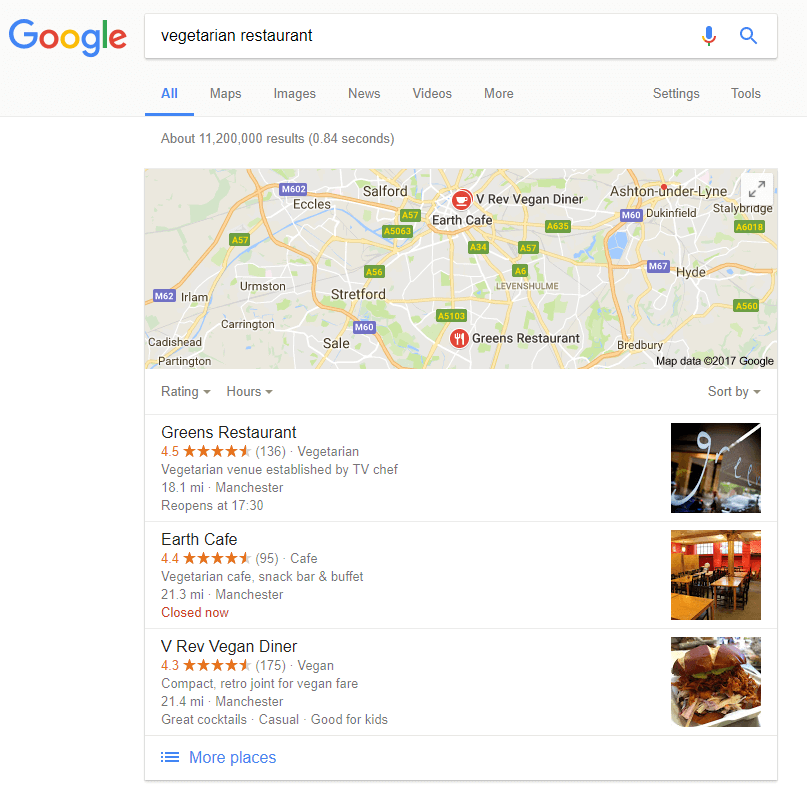 Mobile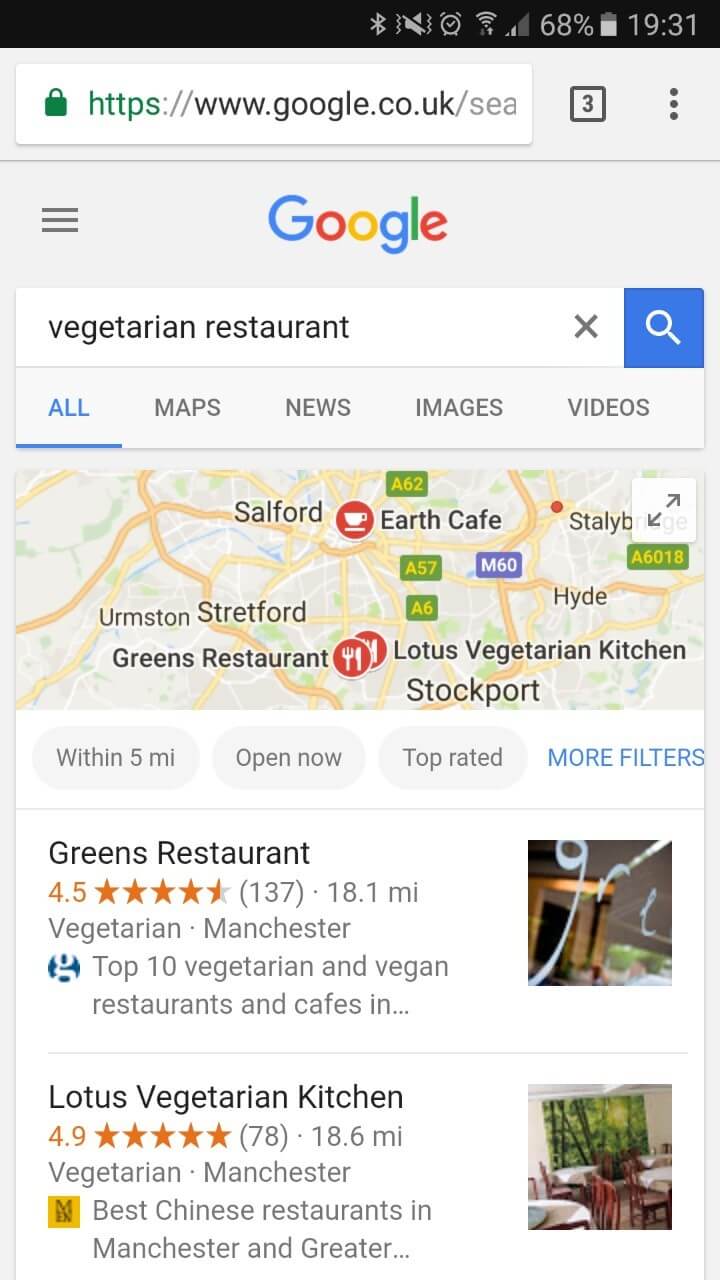 Google uses your geolocation to show you results relevant to your current location, even when a location-specific keyword is not used.  We also frequently use location specific keywords like 'vegetarian restaurant runcorn' and even more conversational search terms like 'vegetarian restaurants near me' as Google becomes smarter, to find local businesses whilst we're on the move.
To keep up with local competition and to continue to reach new customers it's important that your business shows up in these local search results.
Why is local SEO so important for future success?
With smartphone usage increasing by 10.8% this year and looking set to continue to increase thereafter, it is estimated that over a third of the global population will be using smartphones by the end of 2018.
Research shows that in this digital age a whopping 86% of us look up the location of a business on Google Maps and 78% of location-based mobile searches resulting in an offline purchase. These stats clearly illustrate that we're using our smartphones more than ever to help us to connect with local businesses whilst we're out and about.
When we pull out our phones in the street to look for the nearest florist, café or cinema we're looking for instantaneous answers so that we can make snap decisions on the move, meaning that these local searches we perform have very high intent.
Businesses that don't optimise for local search will find themselves continuing to fall behind their competition as smartphone usage and local search grow.
Key strategies for optimising for local search
Make sure your website is mobile friendly! Not sure? Check how mobile-friendly your website is according to Google themselves here: https://search.google.com/test/mobile-friendly
Make sure you have Google My Business set up. Getting set up with Google My Business is completely free and means that your business will appear in Google's local search results and on Google Maps.
Complete and perfect your Google My Business listing. Getting set up isn't where your work ends.  Your listing will perform better if you complete it to the best of your ability, filling out all the fields you can and using high quality imagery and well thought out text.  Don't forget to encourage your happy customers to leave reviews on your page and be sure to triple check that your contact details and opening hours are correct.
On-page local SEO. This involves looking at your business website and making sure that location specific keywords are present in key places including the page's body content, title tag and meta-description.  Adding location specific pages to your website may also be beneficial.
Need help with your Local SEO?
Want to start reaching more local customers? Don't get left behind, get in touch with our SEO team here at Aqueous Digital to get optimised for local SEO in your area by calling one of our team on 0800 285 1424.