[UPDATE: September 2018 – We've had a lot of response to this article and today have been sent an invoice from a firm in Slovenia. Clearly, this is not just targeting the UK and seems to be Europe wide. Feel free to send in anything you get from these people and we will publish it. The details of this latest letter are at the bottom of this article]
Another day and another scam hits our inboxes. This time it's from an outfit operating under a range of different names and by all accounts, they have been doing this for some considerable time.
A quick Google of their names uncovers a web of different trading names going back over ten years, but in its current iteration, one of the names is a company called by EU Business Services Ltd. They are are also using the names World Business List, World Company Register and Global Business Registry.
The good news is that this one ended up in my spam emails so we were spared the possibility of anyone clicking on it, but I fear that this is the start of another wave of these awful emails, preying on already overworked business people.
The email looks like this, just so you know what to avoid if it appears;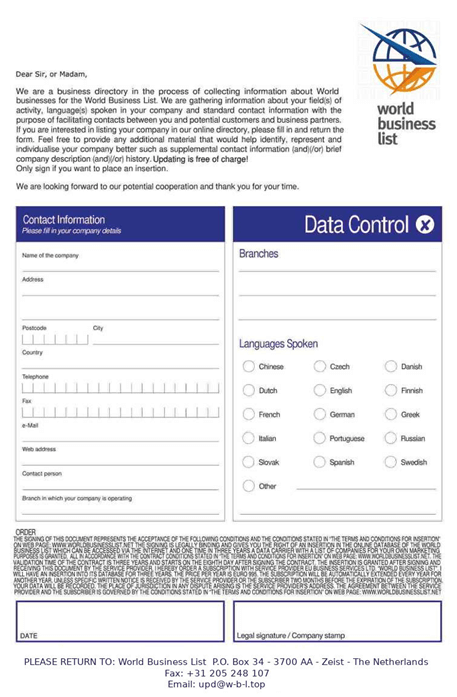 Please excuse the fuzzy scans but this is as good as they send in the first place, possibly to dissuade you from reading it too closely.
The first thing to note is that they have no ideas about who you are. The email is addressed to 'Ladies and Gentlemen' which means they are blanket spamming and this is not something that has been sent directly to your company.
This was confirmed to me by the fact that it was sent, not to my company, but one of my personal email addresses which has nothing to do with the Company.
The subject is another warning sign as it suggests that you have to take some action as it is 'pending'.
It reads "Subject: Pending – World Company Register 2018-2019 [REF:PRU-65134]"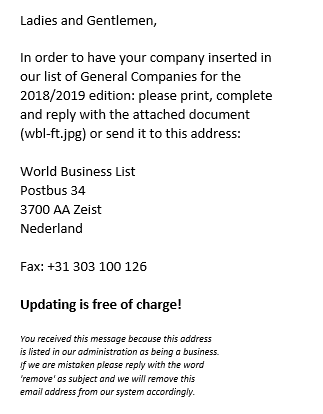 You will also notice that in nice bold type they tell you that "Updating is free of charge". This is, of course, to try and make you believe that this is a free service.
It's nothing of the sort and if you sign and return this form you will be thousands of pounds out of pocket.
Underneath the 'free' message they write;
"You received this message because this address is listed in our administration as being a business. If we are mistaken please reply with the word 'remove' as subject and we will remove this email address from our system accordingly."
Please do NOT reply to them. It simply helps to confirm that your account is live and a real person is looking at emails. This is fed back into the scammers database and before you know it you won't be able to move for spam.
From here the email gets a little more sinister, primarily as it takes the form of a .pdf which you are expected to print and complete.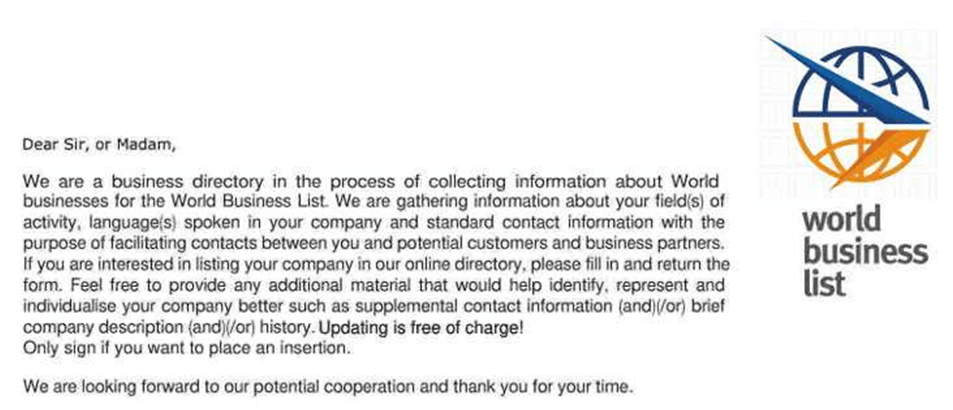 What they hope is that you won't be bothered to read the block of text just above the date and signature boxes as it's within this mess of text that the catch lies.

If you sign and return this form they are going to tie you into a legal agreement for three years which costs €995 Euros a year. That's €2985 Euros for listing your company on their website.
Frankly, this is a rip off, exactly the same as the people at Commercial Register, about whom we've written this article and this follow up.
At the end of this mashed block of text, there is a website address www.worldbusinesslist.net which contains their T&C's. If you read carefully it says;
"The agreement between the service provider [that's them] and the subscriber [that's you] is governed by the conditions stated in 'The terms and conditions for insertion'.
They are hoping that no one will bother reading them so just to help and in case you haven't been able to access them yourself, in the interests of clarity and fairness, here they are reproduced in full.
All orders are governed by the terms and conditions stated hereinafter. Acceptance of any modifications of these terms shall be subject to EU Business Services Ltd. (the service provider) prior written agreement. By sending his/her order, the subscriber accepts these terms unless he/she sends a cancellation within a period of seven days after the date of the signing/stamping of the order note, after which the contract will come into force. To be effective, the cancellation must be given in writing and must be sent by registered post with confirmation of receipt.
The service provider will place the insertion to the data base of the World Business List within a period of three weeks after receiving the order. The data of the subscriber will be used as stated in the order. The invoice will be sent by post. Payment will be made by the subscriber on the service provider's bank account as mentioned on the invoice 14 days after receiving the invoice.
The subscriber must provide exact details of his/her business and/or his/her professional activity. On the basis of these details an insertion shall be drawn up within a period of two weeks after the date of the invoice, the subscriber can make such corrections or alterations as he/she may consider appropriate and return them to the service provider. Upon the expiry of this period without receiving such corrections or alterations, the details shall be published in its original form. Should errors appear in the publications and these errors are based on the details provided by the subscriber, the subscriber shall be the only person liable for such errors. In the event that the service provider should have printed incorrectly the details provided by the subscriber in the online edition of the World Business List, the subscriber is entitled to a free extension of his/her subscription for one year. The liability of the service provider due to the aforementioned incorrectly printed details provided by the subscriber is limited to an amount of Euro 995. Decisions relating to advertisement positioning in certain sections of the World Business List or the designated categories are at the discretion of the service provider.
At the beginning of the second, third and following years of the subscription the service provider will send the subscriber an invoice, the payments for the second, third and following years have to be done on the bank account of the service provider as mentioned. All invoices are payable two weeks from the date of the invoice. The service provider has the right to terminate the contract in the event of non payment within the aforementioned period of two weeks without a prior written notice.
The service provider is not liable for damages caused by any technical or other failure arising in the data base of the World Business List or any technical failure of the data base of the World Business List. The service provider is not liable for damages caused by any error in the data base of the World Business List. Contractual technical specifications including but not limited to hosted domains for publishing adverts may be altered unilaterally for technical/security reasons by the provider. The customer shall be notified by email.
The insertion into the data base of the World Business List is granted for three years and will be automatically extended every year for another year, unless specific written notice is received by the service provider or the subscriber two months before the expiration of the contract. This contract shall come into force seven days after the day the subscriber has signed the order and therefore shall end three years later.
Unless agreed otherwise beforehand by the service provider, the price stated corresponds to the price of one year insertion. The price of the first three years is Euro 2985. In the event of the extension of the contract under the terms defined in the order section, the price of the access for each year shall continue to be that originally stated.
In order to be effective, all undertakings notified verbally to the service provider's employees must be necessarily confirmed in writing.
The place of jurisdiction in any dispute arising is the service provider's address.
The agreement between the service provider and the subscriber is governed by the law of the juridical seat of the service provider.
It's a lot to take in so here are the main points;
Firstly, you can't cancel. They say you can, but the conditions are almost impossible to meet. It says
"To be effective, the cancellation must be given in writing and must be sent by registered post with confirmation of receipt"
Whilst you might be able to send a cancellation in writing by registered post, I doubt very much whether you will ever get a confirmation of receipt. Even Royal Mail admit that once the mail leaves the UK it is almost impossible to track through other countries delivery systems. Given that they appear to be based in The Netherlands you'll be hard pressed to meet this requirement.
Secondly, if it comes to a legal battle, it's going to be on their terms. It states, "The place of jurisdiction in any dispute arising is the service provider's address" which means that you would be fighting this in the courts in The Netherlands.
The bottom line is that it's nothing but a scam.
It's designed to trick busy people into signing for something they believe is free, only to find out that they are then liable for almost €3000.
So, who are these people?
Well, there are some clues in the techincal details behind the scenes. Whilst they appear to have successfully hidden the website registration details, they can't hide some information. This is what WhoIs has to say about them;
Domain Name: WORLDBUSINESSLIST.NET
Registry Domain ID: 1708227322_DOMAIN_NET-VRSN
Registrar WHOIS Server: whois.domain.com
Registrar URL: http://www.domain.com
Updated Date: 2018-03-06T10:48:06Z
Creation Date: 2012-03-21T15:31:42Z
Registry Expiry Date: 2019-03-21T15:31:42Z
Registrar: Domain.com, LLC Registrar IANA ID: 886
Registrar Abuse Contact Email:
Registrar Abuse Contact Phone: 602-226-2389
Domain Status: ok https://icann.org/epp#ok
Name Server: NS133.HOSTING24.COM
Name Server: NS134.HOSTING24.COM
DNSSEC: unsigned URL of the ICANN
Whois Inaccuracy Complaint Form: https://www.icann.org/wicf/
>>> Last update of whois database: 2018-08-07T08:58:22Z <<<
Essentially, nothing to see here. Except for the Nameservers which identify that the host is Hostinger International Limited, a legitimate USA based business who offer cheap hosting packages and whose servers are on the North East coast of America.
Their postal address is;
EU BUSINESS REGISTER
P.O. BOX 34
3700 AA ZEIST
THE NETHERLANDS
According to Google, this is somewhere in the East of Utrecht;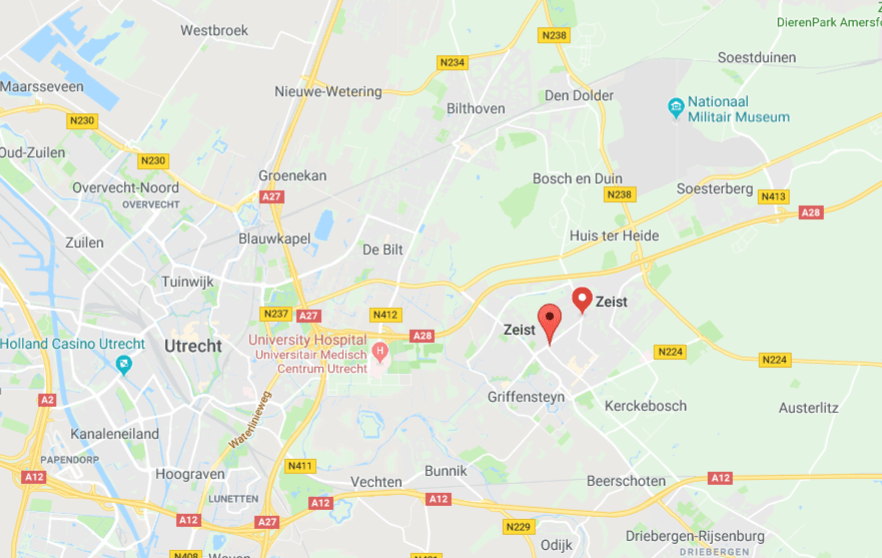 However, when you look at street level this area appears to be nothing but residential housing and a few shops;
The bottom line is that they have gone to a deal of trouble to make sure they can't be found but any search for any of the names mentioned in this article will show you that they are well known to the authorities.
To be clear, what they are doing is NOT illegal.
They are sending unsolicited emails to businesses asking if they would like to appear in their directory. There is nothing legally wrong with that, no matter your views on unsolicited emails, unless they are using your personal email address in which case they are breaching GDPR regulations. If this is the case then feel free to report them to the ICO if you are based in the UK.
The issue is that the way they are doing it is designed to entrap people and commit them to thousands of Euros over a three year period in exchange for, well, nothing more than a listing on their website. Which no one will ever find. Or use.
Our advice is to delete the email the instant you see it. And definitely, don't reply or try to engage with them.
Feel free to let us know if you have received one of these or if you have been caught by them. We will happily post any further correspondence you receive from them on this site to act as a warning to others.
UPDATE: September 2018
We've been sent quite a bit of correspondence about this article and I thought it worth publishing anything we get back. Here is a redacted copy of the invoice that has been sent to a firm in Slovenia by World Business List;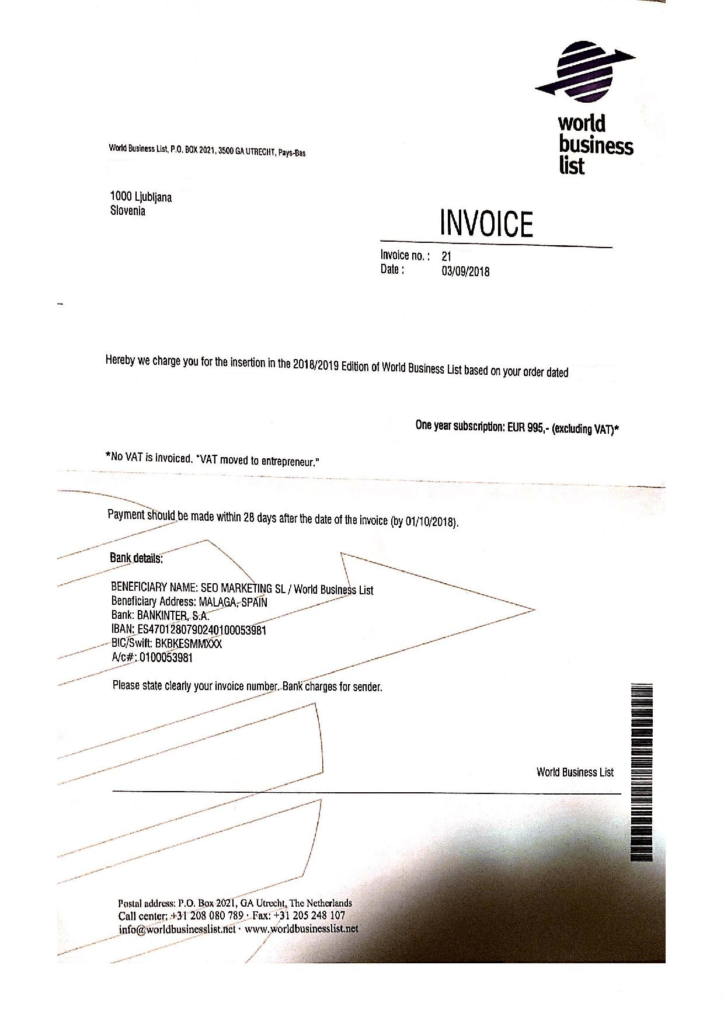 As you can see it's quite simple and in this case, they have used a different address for World Business List which is;
World Business List
PO Box 2021
3500 GA Utrecht
Pays-Bas (The Netherlands)
This is different from those shown above so worth mentioning. It also has all their bank details on which are;
Beneficiary Name: SEO Marketing SL/World Business List
Beneficiary Address: Malaga, Spain
Bank: Bankinter, S.A.
IBAN: ES4701280790240100053981
BIC/Swift: BKBKESMMXXX
A/c#: 0100053981
It's worth noting that this is going to a company under the name of SEO Marketing SL, more of which in a bit.
The reason I highlight this is to let you know that nothing they are doing has anything to do with SEO. Google will pay no attention at all to this link and it won't give any value at all to your website nor help you rank better in Google's rankings.
When we dig a bit deeper into SEO Marketing SL it seems that it has been in existence since 05/02/2015 and the person listed as it's sole director is "Boot Cornelius" (which could also be Cornelius Boot). A quick search turns up nothing useful under this name however typically when you set up a limited company they check to make sure you are who you say you are. This, therefore, could well be his real name.
There is one crucial bit of evidence when you examine the company details online and that is it states "We have no evidence that the company SEO MARKETING SL has submitted accounts." If this is correct then it can only be a matter of time until they are struck off.
If you receive anything from these people that you think will help others please feel free to send it in and we will share it.
IMPORTANT NOTICE
This article was written to try and help companies avoid falling into the trap of completing this form and becoming liable for payment.
We are often asked about what people can do if they have returned the form to these people.
In terms of advice, it remains the same as the articles and that is that what they are doing is legal, though not entirely ethical in our opinion, and as such, they are entitled to ask you for payment.
We have had correspondence from a number of companies who have received threatening letters. Most are refusing to pay and to date, not one of them has re-contacted us to say they are being taken to court. Whilst we cannot advise you to refuse to pay them, we can report that no one we know who has refused has faced any further consequences other than a barrage of emails and letters with increasingly threatening demands for payment.
Please be aware that we are not a law firm and cannot provide legal advice, nor accept any liability for anything you may do with the information provided on this website.
One response to "World Business List and Global Business Registry – yet another Directory scam preying on UK businesses"