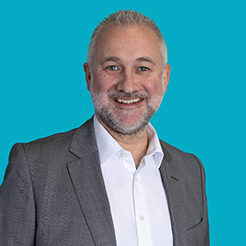 Jonathan
Managing Director
Meet the team
Jonathan is Google AdWords Certified, has an MBA from Henley Management School and has been a Chartered Marketer for over twenty years. Jonathan is a public speaker on SEO and Digital Marketing and regularly lectures and trains on all aspects of Digital Marketing. His specialty is helping businesses identify clear marketing strategies that deliver results.

If you had to delete all but 3 apps from your phone, which ones would you keep?

I'd keep Shazam as I use it whenever I am out and about and hear something I really like. It's great for finding new music and artists. I'd also keep Mag Light as it's a wonderful, free app that turns your phone into a magnifying glass and finally I'd keep the Cloud as all my spreadsheets and documents I use for stamp collecting are stored there, for easy access when I am at a Stamp Fair.

As a child, what did you want to be when you grew up?

Other than taller, I just wanted to help people.

Who's your favourite cartoon character?

There's way too many to pick just one favourite, but if pressed I could happily spend time watching 'I am Weasel'

What was the last song you listened to?

I listen to the radio most days so it could be anything, but the last song I Shazamed was 'You got dat right' by Garfield Fleming.

Name one thing still on your bucket list

Visiting Australia

If you had to sing karaoke right now, which song would you pick?

I wouldn't. And if you'd ever heard me sing, you'd thank me for this choice.

Do you have a favourite mug?

My favourite mug(s) are any Fine Bone China mugs. Tea just tastes better from fine bone china.

If you were forced to watch reruns of a favourite show, which would you choose?

Definitely Yes Minister and Yes Prime Minister. Superb acting and plotlines that still resonate today

If you had a magic button on your desk to bring you whatever you wanted, what would it bring?

Sunshine.

If you could have any talent, what would it be and why?

I'd love to be able to sing because it's one of the few things I simply can't do.