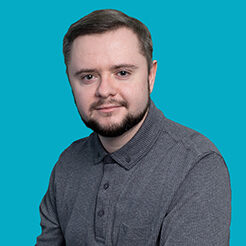 Ryan
Senior SEO and Content Specialist
Meet the team
What is your role at Aqueous and what does that involve on a day-to-day basis?

I help kickstart the SEO campaigns of our newest customers by producing their first content strategy with Aqueous Digital during the onboarding stage. Our initial content strategies are designed to help gain visibility and drive organic traffic for keywords and questions which our customers want to focus on from Day 1.

If you had to delete all but 3 apps from your phone, which ones would you keep?

Reddit, Spotify, WhatsApp

As a child, what did you want to be when you grew up?

I wanted to be in movies, but I also remember wanting to be a policeman and a solicitor at one point. I was a very unfocused child with big dreams.

Who's your favourite cartoon character?

Zapp Brannigan from Futurama

What was the last song you listened to?

Demons are a Girl's Best Friend by Powerwolf.

Name one thing still on your bucket list

Do a tour of America. I've never been and it's always been somewhere I've wanted to go. So I'd love to rent something like an Volkswagen Campervan or an old school American Muscle and do one big tour of the States!

If you had to sing karaoke right now, which song would you pick?

Penny Arcade or Sweet Caroline. Old reliables for a Scouser!

Do you have a favourite mug?

My oversized mug says "The Boss". It overcompensates for my fragile ego.

If you were forced to watch reruns of a favourite show, which would you choose?

Garth Marenghi's Dark Place. It's one season long and it's perfect. If you haven't watched it, stop what you're doing and go watch it, then tell me how good it is.

If you had a magic button on your desk to bring you whatever you wanted, what would it bring?

A lovely cup of tea. Or Krispy Kreme Donuts. On Friday's, it can be a cold pint because I'll have earned it.

If you could have any talent, what would it be and why?

Freestyle rapping. It'd be a great party piece for a night out and useful if I ever needed to creatively diss some fool who was all up in my face.