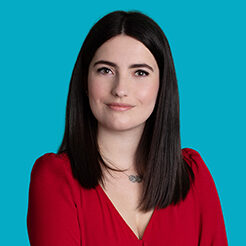 Caitlin
Senior Digital Marketing Analyst
Meet the team
What is your role at Aqueous and what does that involve on a day-to-day basis?

I am a Senior Digital Marketing Analyst at Aqueous, which means that I handle the SEO work for a selection of our clients. This includes uploading content, performing keyword research, and link building to increase traffic and conversions! I also head up a small team on our Reputation Management projects.

If you had to delete all but 3 apps from your phone, which ones would you keep?

Instagram, Spotify and FlightRadar24

As a child, what did you want to be when you grew up?

Check-Out Assistant at Morrisons. I loved the idea of working on a till! Had to be Morrisons though, nowhere else.

Who's your favourite cartoon character?

Tigger from Winnie the Pooh!

What was the last song you listened to?

Thnks fr th Mmrs by Fall Out Boy.

Name one thing still on your bucket list

Travel to see the Eurovision Grand Final.

If you had to sing karaoke right now, which song would you pick?

I'd attempt to sing My Heart Will Go On by Celine Dion. 'Attempt' being the key word.

Do you have a favourite mug?

My parents bought me a mug as a souvenir from their holiday. It's the full package: Greek, dogs and comes with its own spoon! It is a challenge to carry though.

If you were forced to watch reruns of a favourite show, which would you choose?

The Simpsons.

If you had a magic button on your desk to bring you whatever you wanted, what would it bring?

An electric blanket!

If you could have any talent, what would it be and why?

I'd love to be able to write. I've tried to start my own blog a few times but could never write anything interesting!