Although many people think otherwise, Google PageRank is still in use and will continue to be one of the most important ways of determining a website's ranking on the internet. The main reason why people mistakenly believe that PageRank has disappeared spring from the fact that last year, Google got rid of its toolbar PageRank widget.
Toolbar PageRank was, as the name suggests, a way for websites to check their ranking merely by glancing at the display on their toolbar. Toolbar PageRank used to be updated three or four times a year and was invaluable for SEO practitioners to be able to identify how successful their efforts were in increasing a site's ranking.
So, although Google PageRank is certainly still relevant in 2017, its results are no longer available to anyone outside Google, so it can't easily be utilised. Here is a list of the three most important ranking factors that, even though we can't see the results, play an important part in your Google PageRank.
Content
In recent years, where content is concerned, there has been a move away from keyword-saturated copy to content that is relevant and written in more natural, human language — better-written content if you like. This trend is set to continue throughout 2017.
Studies have shown that the importance of keywords is falling every year and that Google ranks pages and evaluates content according to how relevant it is. What this means is that detail counts. The more relevant information you have on your page, the higher your ranking is likely to be. What this means is that long-form articles are becoming more popular. Therefore in 2017, content needs to be both relevant and comprehensive.
Backlinks
Over time, Google has developed its ability to sort bad links from good links. Generally, more links still mean a higher ranking, but only if those links are from a variety of different and authoritative sites. When content on your site has a large number of good-quality backlinks, three crucial ranking signals come into play:
* number of links
* link authority
* link diversity
You will read lots of different ideas about building backlinks, but really there's no way around what you actually have to do, which is 1) Create quality content, and 2) Promote it.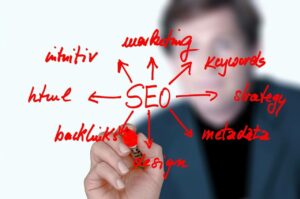 Mobile Optimisation
Google's move to mobile-first indexing has been one of the most important changes in the past year. What this means is that Google's index now crawls the mobile versions of websites first, and the desktop version second. Therefore, mobile optimisation is becoming a massively important ranking factor.
In 2017, it's more important than ever that all your online content is responsive across all mobile platforms, as well as being identical to your desktop site content. It's no longer enough to think mobile-friendly. You should now be thinking mobile-first. Also, never launch a mobile version of your site until you're sure it's ready. Launching with an incomplete or broken version could end up damaging your ranking.
In conclusion then, although Google PageRank continues to be important, it's no longer something in the public domain. However, to make sure you perform well in Google search results, be sure to incorporate the above factors.
What social media platforms should we definitely be using?
The problem with social media is that it's very easy to spend a lot of time experimenting with different platforms and ultimately to receive no return on that investment of time (and therefore money). If you don't really know what you're doing, it can feel like you're floundering around and achieving no real results. So, how do you make sure that you're devoting your limited time and resources to the right social media outlets, those that will provide the most benefit for your business?
Research, that's how. Which is why you're here. Without further ado, let's take a look at which social media platforms might be best for your business .
* Facebook
Facebook is still huge and despite the rise of alternatives, it doesn't look like going anywhere soon. However, as it's the first really successful social media platform and has been around the longest, it skews towards a slightly older demographic, with more than 50% of its users falling into the 25-55 age category. If the target demographic of your business is under 25, then concentrating on Facebook might not be the best use of your time. However, if you target a slightly older customer, then Facebook is still an extremely valuable tool, with around 50% of users checking the site several times a day.
* Instagram
Instagram has more than 500 million active users, 59% of whom check the app at least once a day, so there is no doubting the phenomenal reach of this platform. However, the app's most recent algorithm change means that content is no longer viewed in chronological order. What this has done is to take away a large degree of control from companies who post content, making it difficult to determine exactly how many people will actually be exposed to your content. Another drawback is that there are no clickable links in individual posts, so getting followers from the app to your website is, to say the least, a challenge. Instagram is best used therefore as a tool for building your brand rather than a marketing tool.
* Pinterest
If you're based in fashion, food, home decor, art or anything else where beautiful images are the order of the day, Pinterest is probably the best social media platform for you. It's also particularly relevant for female-focused companies as it has significant reach with women of all ages. Plus, it features the Pinterest buy button, which means that your followers can see something they like and then move to purchase it with a single click of a button.
* Snapchat
According to official statistics, 71% of Snapchat users are under 34. 45% are between 18 and 24. So this is a very young market and the first thing you have to decide is whether this is a market that's relevant to your business. If millennials are indeed your target market, then Snapchat is probably worth a punt. Companies who use Snapchat do so to share unique video content, including interviews and behind-the-scenes footage, or they might choose to share new products or collections. Used successfully, it can be a worthwhile marketing opportunity and a great way to build up a faithful following.
* Twitter
While there's no doubt that the importance of Twitter has dwindled in the past year as user engagement has decreased, it's still a viable platform for businesses. It's also worth remembering, however, that the average click-through rate on links in tweets from accounts with over a million followers is less than 0.5%. So, don't get your hopes up.
Finding which platforms fit your company best and putting all your efforts into just a couple of platforms will yield better results than spreading yourself across all platforms.
Aqueous-Digital.  We don't sell services. We create partnerships with clients who are in it for the long haul. Come and discuss your business needs.