Back in the 1990's, pre-internet and certainly pre-Google, there really were only a few ways that most businesses generated enquiries on a daily basis.
Aside from the huge brands with the deeper pockets for TV and in some cases Radio, the millions of small businesses, SME's in the UK and 'Mom and Pop's' in the US, relied on traditional print media for their day to day existence.
Local newspapers always had thriving advertising sections and directories such as Yellow Pages, Thomson's and a multitude of smaller players made a living in this space.
And then along came Google. And the world as we knew it changed.
Fast forward 20 years and we are living daily with the new paradigm. Today Google is the behemoth of the advertising world and everyone dances to their tune. Yellow Pages is a pamphlet which floats gently to your doormat once a year and rumour has it that Thomson's will actually give up on printing a directory in the next year or so.
If I were you, I wouldn't as Google is about to destroy all Directories and aggregators in the online space.
I first covered this in July of this year for our SEO customers to give them a heads up on the changes that were coming to their online environment but now we have the real thing in action it's time to give everyone the detail.
In summary, Google has created an advert box which puts home service providers in touch with searchers. Plumbers, builders and the like will be able to get leads directly from Google without them having to go anywhere else.
The service has been trialled in the San Francisco Bay Area and was covered admirably by Ginny Marvin in her article when it first appeared.
This was the image which accompanied the original article;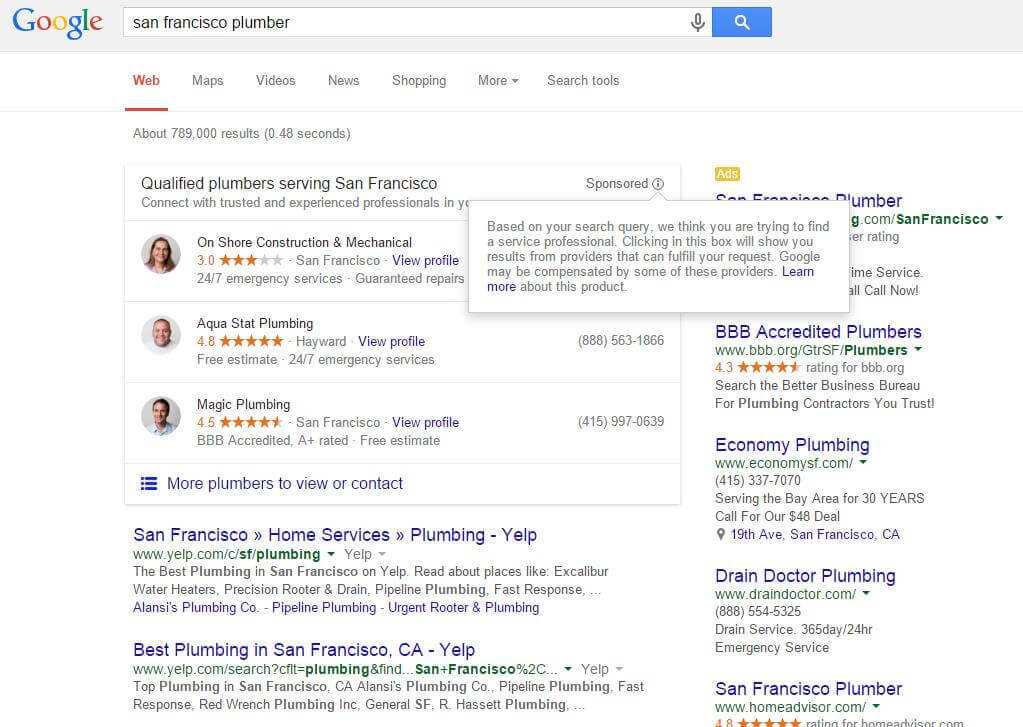 Having ironed out early glitches, observers noticed Google rolling it out of the San Francisco area with adverts spotted for the search 'San Jose house cleaners';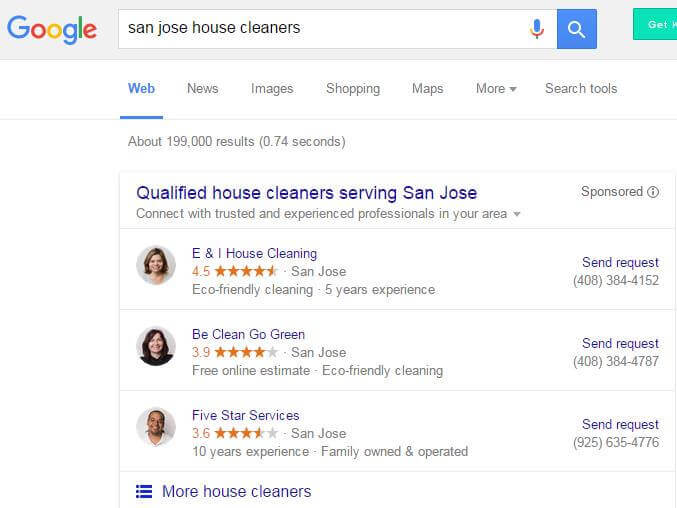 Google officially announced it on Google+ saying:
From "unclog bathroom sink" to "locked out of apartment," there are millions of searches every day on Google for plumbers, locksmiths, and other home services. To help these businesses better connect with their customers, we're introducing AdWords Express home service ads — available today in beta for plumbers, locksmiths, house cleaners, and handymen in select cities throughout the San Francisco Bay Area. Learn more about home service ads google.com/homeserviceads
Remember that this is the core space in which directories, aggregators and local newspapers used to play.
Whether you think this to be a good or bad idea it seems that trials are telling Google two things; firstly that users like it and secondly that they can make money at it.
You will notice that it is currently occupying the top slot in place of the usual top three advertisements meaning that to dominate PPC search you will now need to sign up to their 'home service ads' programme.
It is still unclear if the standard PPC rules apply regarding the size of bids, quality score and content/keywords but this will become more transparent as the trial progresses and it moves towards a mainstream roll out.
The reality is that Google knows it can make money at this and any aggregator or directory should be massively concerned at this development.
In the UK 95% of all search engine traffic is via Google so anyone looking for a plumber, builder or roofer is using Google.
To see how this is likely to shake things up take a look at a local search for a 'Plumber in Runcorn'.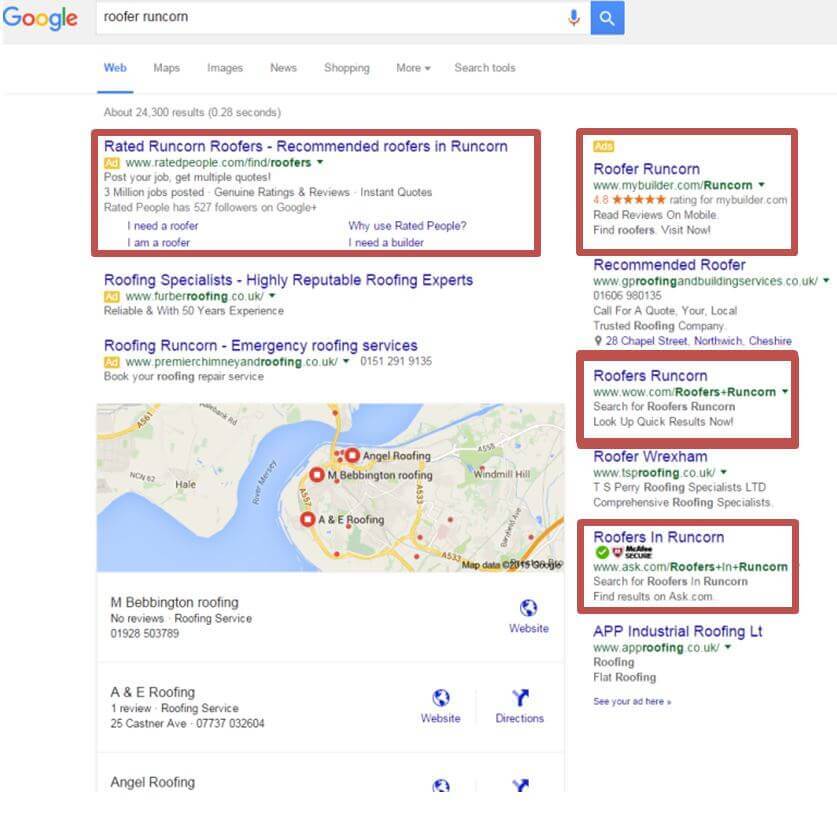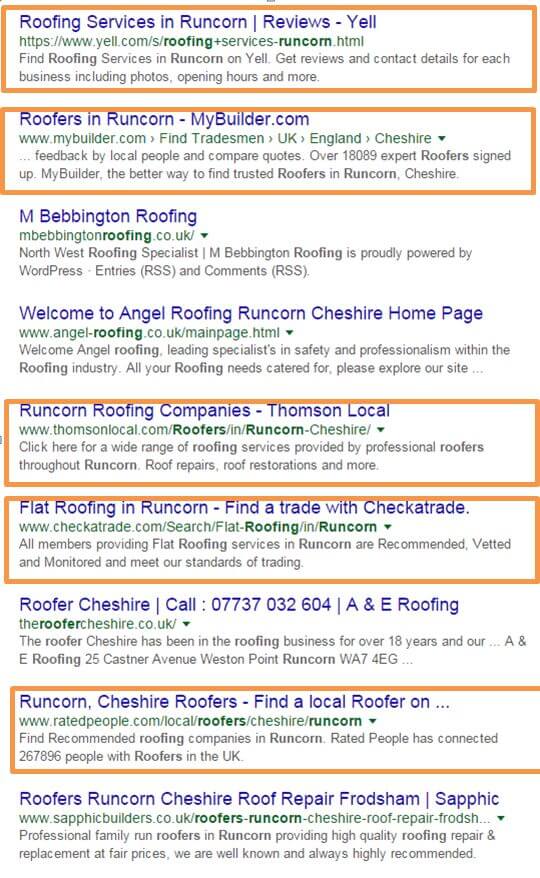 Directories are now officially dead; Google Home Services ads are now live.
The reality is that when the new system is introduced the first PPC result, which is an aggregator (shown with a red or amber box around it), is likely to be removed and replaced with an actual tradesman. Given that aggregators rely on PPC to make their business model viable this will be a significant blow to their revenue stream. In fact, four of the nine adverts are likely to get displaced although what has happened in the USA is that they now all appear on the right-hand side instead of at the top.
The interesting element is the organic listings that are currently below the advertisements and the local pack where there are five aggregators and/or directories. In the US, the results immediately below the adverts are ALL for Yelp;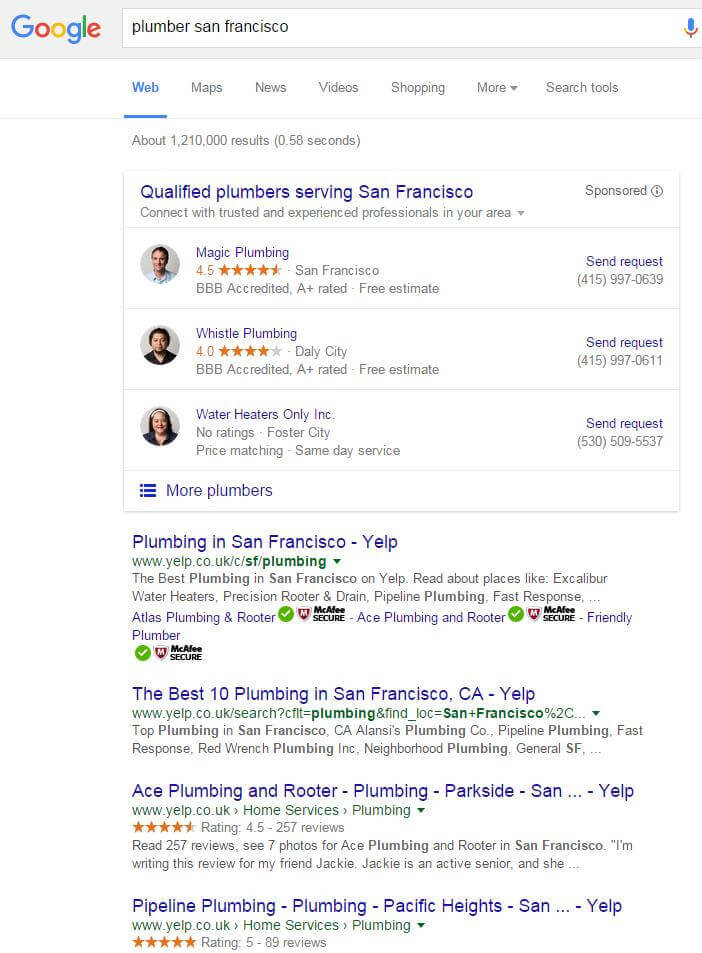 This doesn't look so bad until you click the 'More Plumbers' button and…..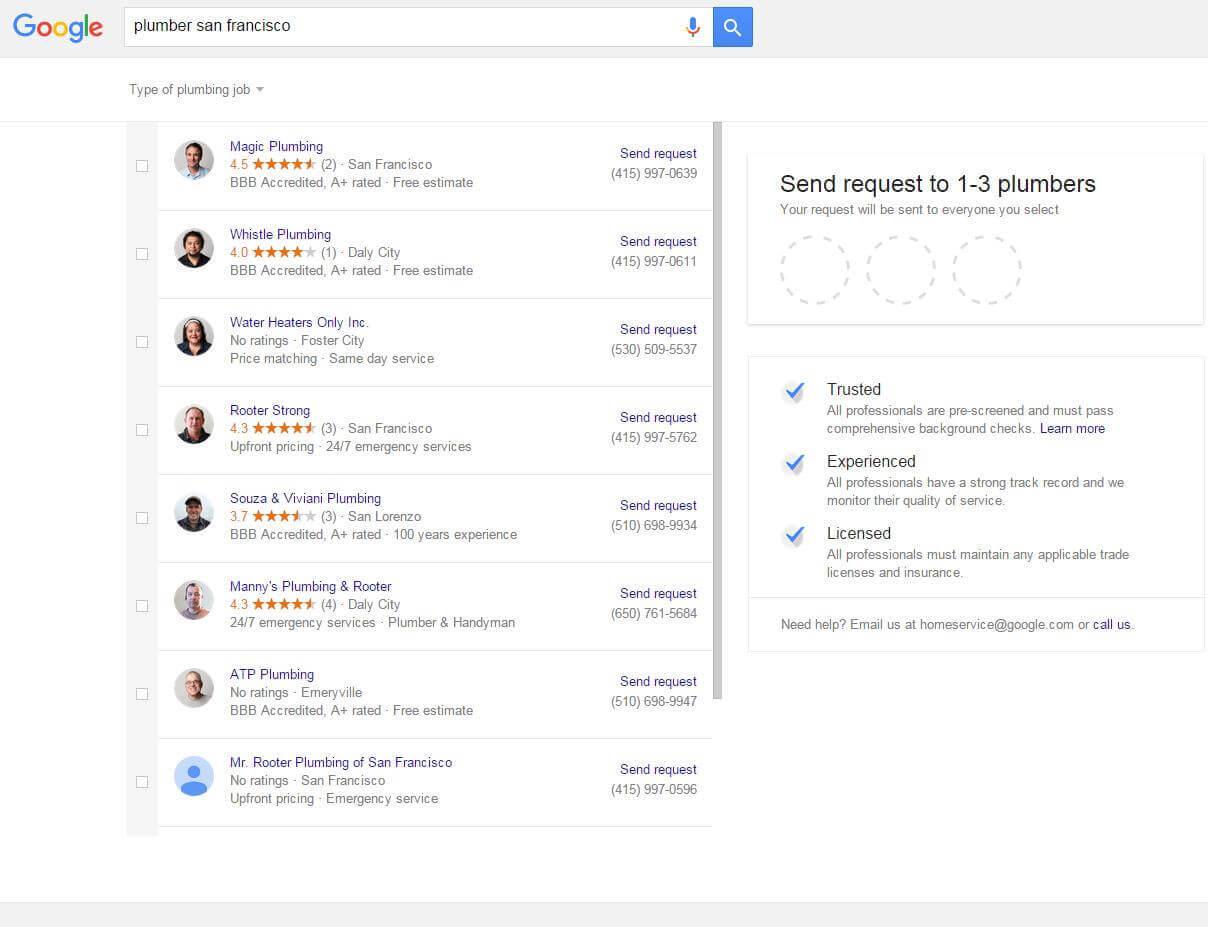 Everything other than the Google product is removed and every one of these entries is a paid entry.
Talk about a competition killer. With a monopoly position, Google has now found a way of removing people who would like a part of its revenue stream from the search results.
The argument will go that the user has made a conscious choice to use the service and everything else would be a distraction but I can't see that holding any water with the sites that have just been removed.
And for those of you reading this thinking that it won't affect you; think again. It will.
Every small business owner who wants to appear in these search results will need to firstly have an up to date Google My Business profile page and then have to put budget aside to enter the world of Google PPC. Like it or not, Google will be asking for money for every transaction that goes through this platform and moreover they become the final arbiter of quality.
If a customer complains about your service, or lack of it, you will find your entry 'deep-sixed' rendering it impossible to get visibility, enquiries and business.
There are no details so far on how this programme works but your business life will be in the hands of a single provider who can turn the tap on and off at will.
You may be sitting there thinking that you are OK as you are not a small home service business. What makes you think that this will stop at tradespeople?
Why not Solicitors? Why not Accountants? In fact why not any business at all?
Back in the day, Yellow Pages (or now Yell.com) had over 2,400 classifications which generated revenue and in the online space, there must be over 3,000 separate searches that they currently rank for on Google.
What if no one ever got to Yell.com? Or Rated People? Or Checkatrade? Or Thomsonlocal?
What if all the clicks that currently go to these sites go directly to Google?
You can see the compelling logic from Google's point of view. Aggregators always have been an interruption to search and this new Home Ad Service simply cuts out the middle man.
Is there anything that aggregators can do? Probably not, although it is unlikely that they will go down without a fight.
My view is that this is either the end for aggregators and directories or the start of a huge legal battle. What do you think?