We have warned about this for some time and here's the first UK based evidence that Google will be monetising the Google My Business listings.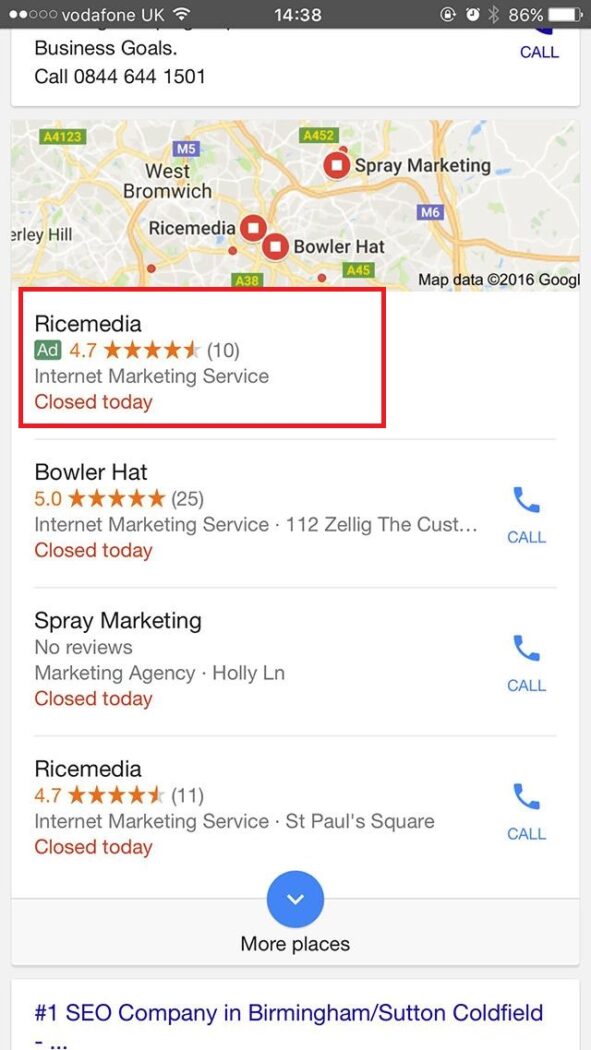 This appears to have been a test as it isn't possible to recreate this on a mobile since this screenshot was taken but it substantiates our earlier reports that Google is looking for more ways to drive advertising revenues through its search results pages.
This is not the first time we have seen Google looking at different options to generate money from search results. You may recall an earlier test example from the Bay Area of San Francisco, where we reported that a search for a plumber was bringing back a new set of listings. This was billed as a trial but is still running leading us to believe that this 'trial' is sufficiently successful to warrant continuing, at least for now.
Here's how it currently looks if you search for plumbers in the Bay Area of San Francisco;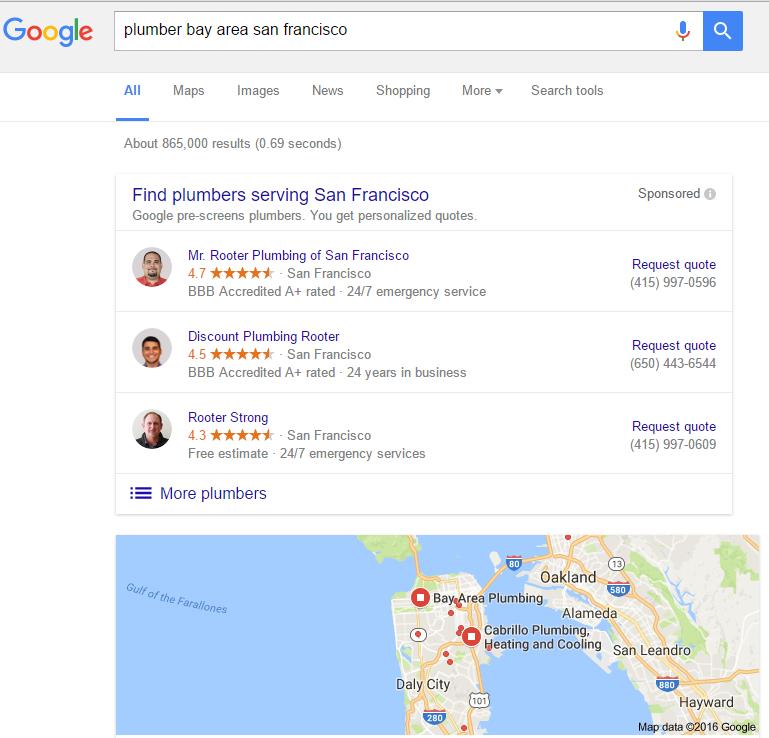 You will notice that this 'Pre-Screened Plumbers' pack actually replaces the Advertising which normally sits at the top and it pushes the Google my Business listings underneath the map like so;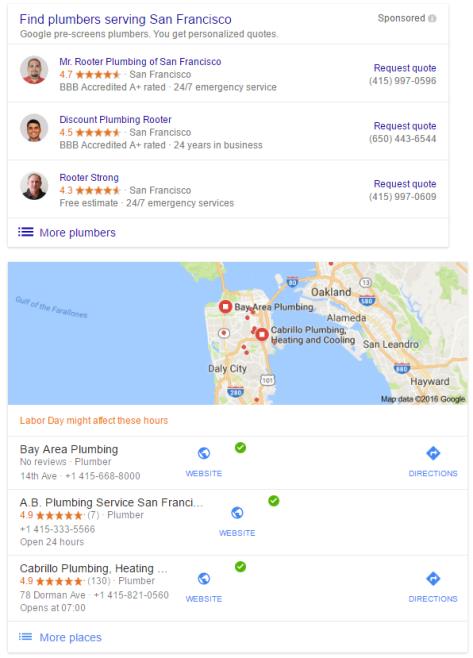 This brings up another issue which is, of course, that of 'pre-screening'. Can Google effectively do this? Are they capable of policing it? On what basis can they say a firm is good or bad? And what determines your position in the list? The amount you pay Google or the quality of work you do?
If current form is anything to go by all it would take is one complaint from a customer and a business could be removed from this list, at least temporarily. If that is the case and assuming it is the dominant form of advertising, they may well face legal challenges if they deny firms the right to be included in the list.
In short, it appears to be a minefield.
Elsewhere in the States the same search still displays a standard results page;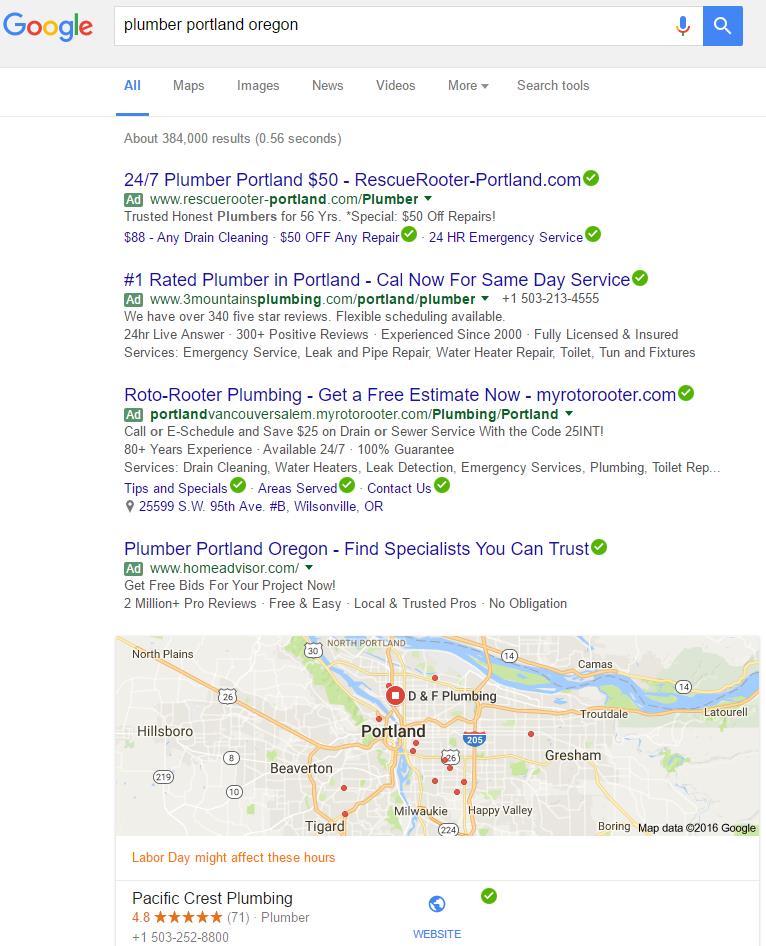 Meanwhile, back at the 'Pre-Screened plumbers', this has changed slightly since the first screen shots we took earlier this year and if you click on the 'More Plumbers' link in the bottom left it opens up with this;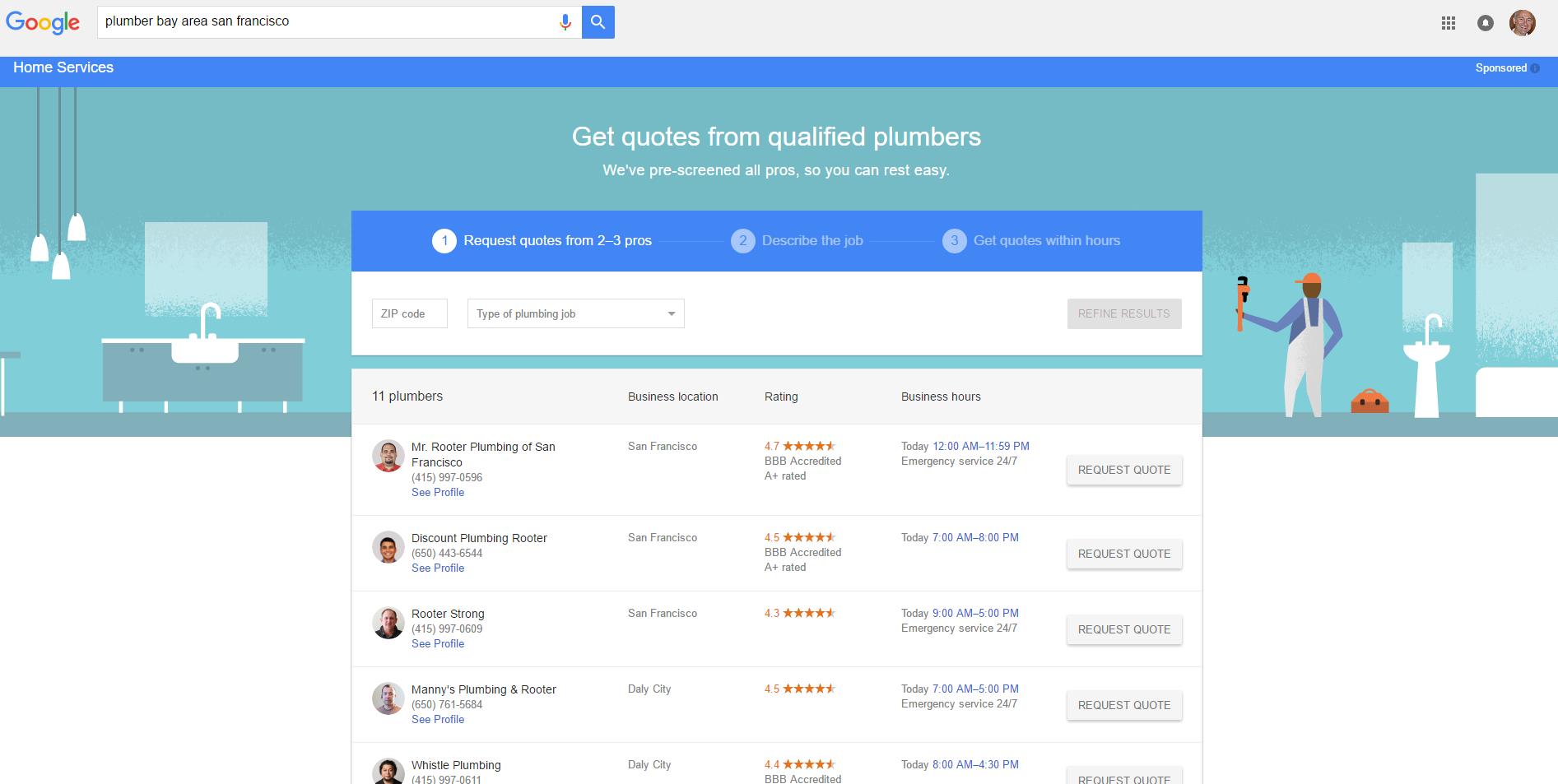 As soon as you click on the 'Request Quote' button on the right hand side it pushes you to refine your query so you can be sure that the Plumber actually wants this type of work. You need to put in a valid zip code and type of plumbing job;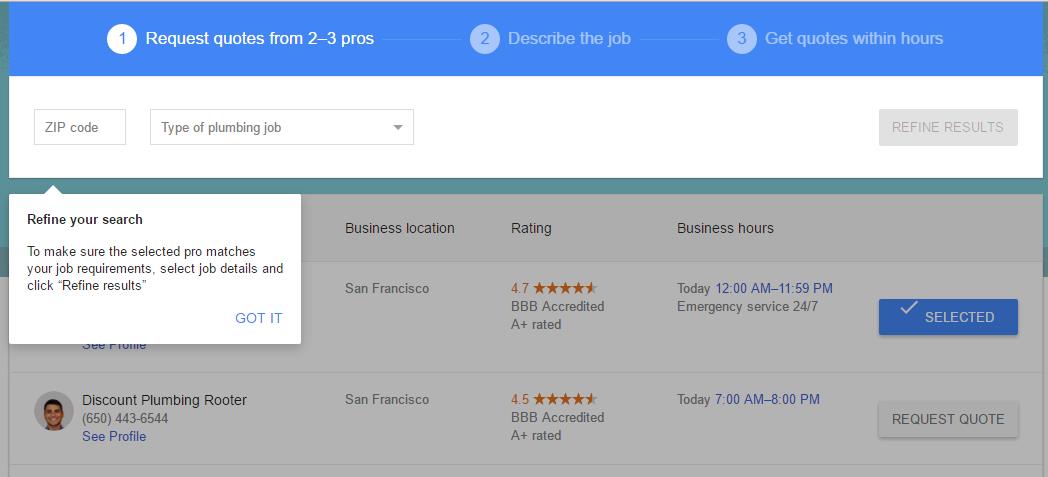 Then you are asked to input the job details;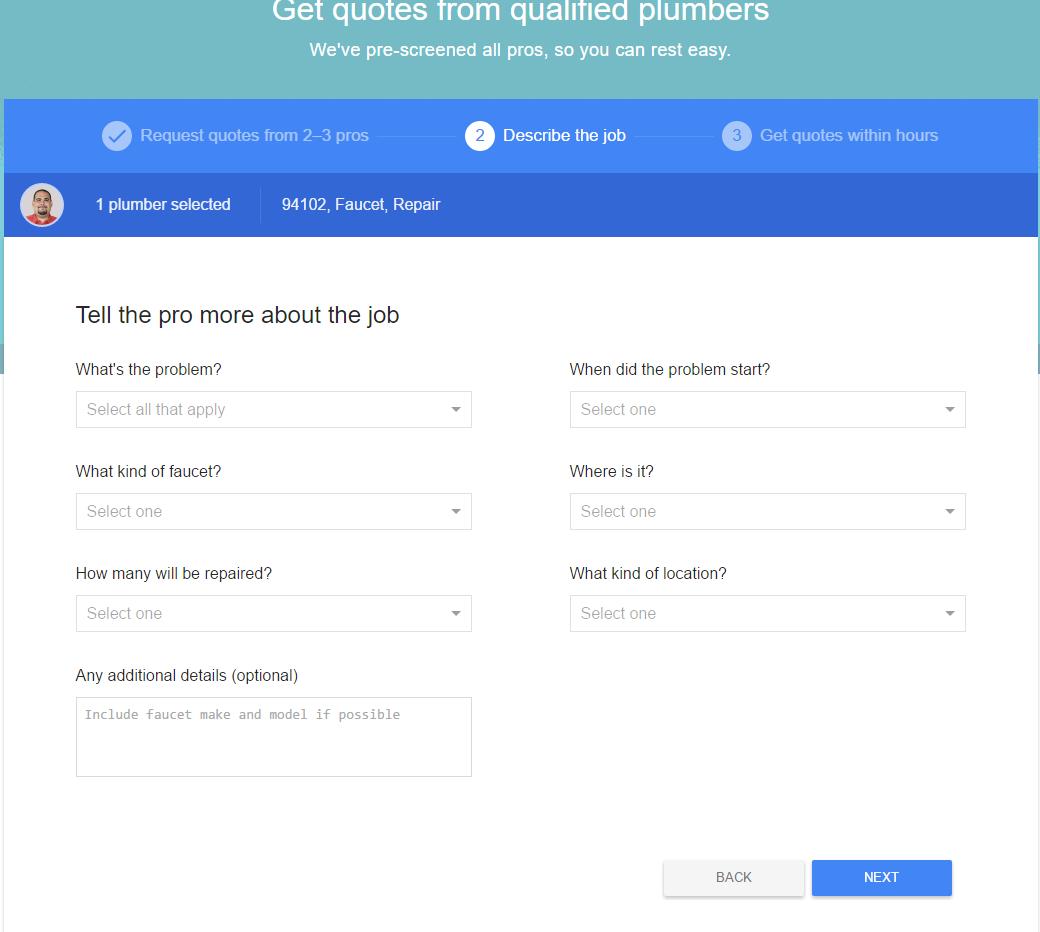 Then finally you enter your details and your request goes off to the Plumber, who of course gets charged by Google for delivering a real live sales lead to him.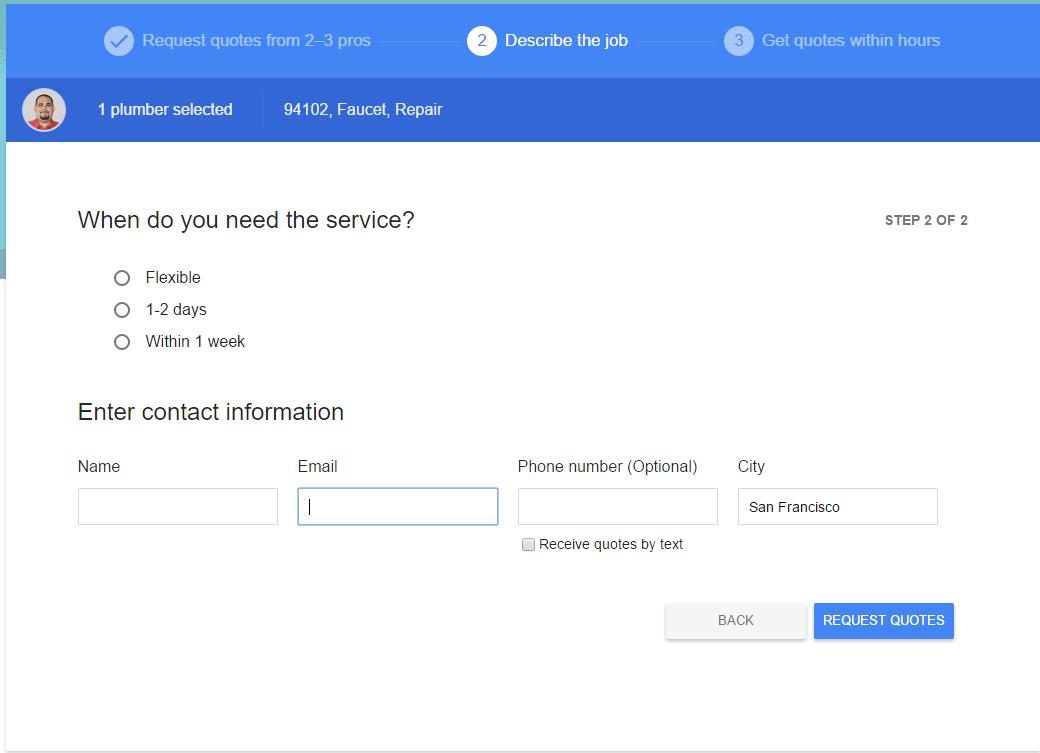 The problem of course with this is that the system allows you to enter up to three contractors at a time which essentially means that whoever gets back to the customer first is pretty much guaranteed the job, particularly if it is an emergency.
This will lead to some major changes in the way that businesses answer their phone calls in the future and could lead to a rise in the 'mobile landline services' or call handling services. Will you need to have someone monitoring your inbox on a minute by minute basis waiting for these leads to arrive?
Whilst still a trial in the USA it is highly likely that this, or something like this, will become a feature in the near future. Serious thought should be given now to ways in which this will affect your business and how you intend to adapt to meet this new way of advertising.