Pretty much every other search result that you are going to find today for 'SEO Warrington' is going to say the same thing.
It will be an SEO consultant or Company, telling you how wonderful they are and how they can definitely help you sort out your SEO.
Undoubtedly there will be promises of results, case studies of customers who they have worked with and even perhaps the offer of something 'free' like a website review.
So, why are you still not convinced?
The truth is that when everyone is saying the same thing, who can you believe? By what criteria should you be choosing a partner to work with on your SEO? Does it even make a difference who you choose?
Let's see if we can bring a bit of clarity to these questions, by starting with how search works.
Why did you search for SEO Warrington?
The chances are you are either looking for a provider or you are a competitor of ours (in which case hello!), but the reality is that this isn't really a very well searched phrase on Google.
Search has evolved and honestly, adding the word Warrington to the end of your search if you are based in or around Warrington, is pointless. Google already knows where you are and more often than not, knows what you are looking for.
The way search engines deliver their results is probably completely different from the way you think.
For example, do you know that the search you are doing now and the one someone does in the next street to you may bring back completely different results, even though you may both search for exactly the same thing?
So, if you search for SEO Warrington and the business next door searches for SEO Warrington then chances are the results will differ. Same applies for SEO Consultants or any other search term you can think of.
You might also find that the image on this page is in the 'images' search on Google for SEO Warrington, not because it represents SEO in Warrington but more because we've tagged it as such. It's actually The Algarve but you can imagine it's Warrington, at a push…
How can there be different results for the same search?
The reason is quite simple. Search Engines these days don't just serve you a result based on the words you type (or speak), they use a range of other variables.
For example, Google uses factors such as where you are located based on your IP address, your previous search history and whether you have visited a particular website before, how often you make the search, when you last made the search, and what device you are searching on to name a few.
On top of this, it can pull in additional information if you are logged into your Google account as it can see whether you have sent or received any emails from any of the web addresses which are in their search results, and if you have, it may choose to push that particular website higher in the results it shows you.
And if you use a Gmail account Google can and will read your emails to see if this page matches with something that you have been emailing someone about.
Scary eh?
Does it matter which device I use to search for SEO Warrington?
Yes, it does.
Google's search results are often device specific so if you are using a PC or an iMac it will take your IP address as the location unless you're signed in to your Google account in which case it may well know exactly where you are.
For example, if you have an Android tablet or mobile you have to sign in to your Google account to use them so it can often place you exactly based on GPS coordinates.
All of this means that what was a simple search query for SEO Warrington has now turned into a challenge for Google, and as its main driver is to provide you, the end-user, with the very best search result, it can use any and all information available to do this and to give you the answer.
The key here is that Google uses everything it can to give you the search result you want.
First time. Every time.
Which is why it has been so successful over the past twenty years.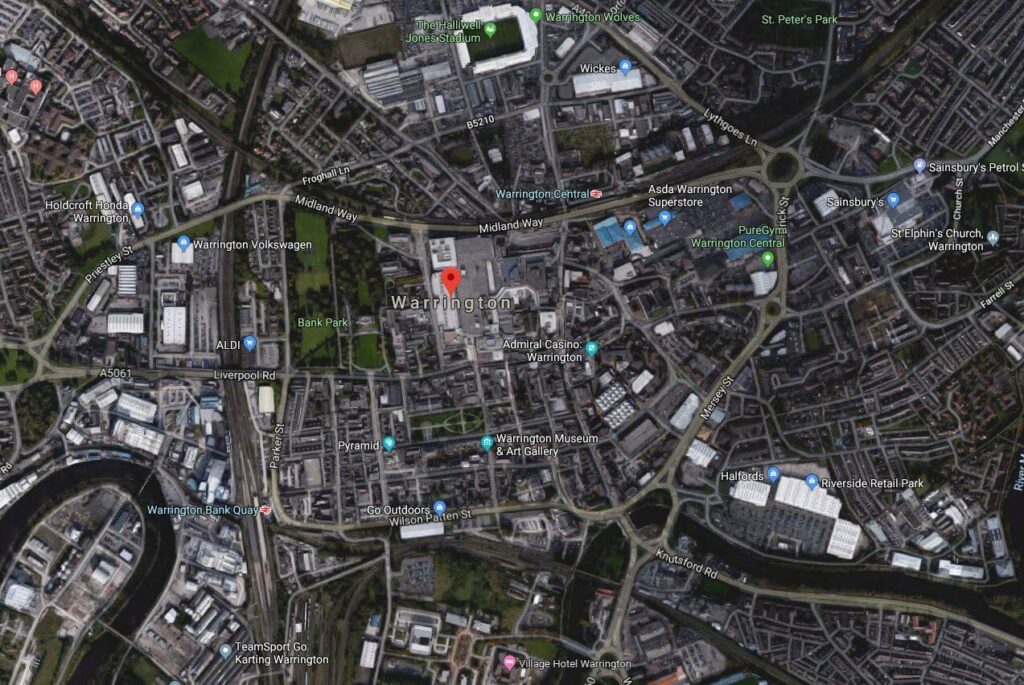 If Google knows so much do I still need to include the name of the location?
Actually, Google is now assuming that you won't include that information.
In October 2014 Google released a change to the algorithm in the UK which was dubbed the 'Pigeon' update. What this did was it started to use the signals we talked about earlier to include more locally based results in broad queries.
So for example, if you search for 'cake shop' right now wherever you are then there is a very good chance that you will see a local cake shop in the ten organic results that appear.
Of course, as Google doesn't know whether you want to find a local cake shop, know what a cake shop is, find an album or band called 'cake shop' or search for a programming update called cake shop it may well include any or all of the other results.
You can further confuse the search engines by doing the search on your mobile whilst on a train.
I did this recently and it returned a cake shop near my house, based on Google knowing where I live, a couple in Oxfordshire, based on my location whilst on the train, and a couple in Manchester and Liverpool based on where I had been in recent weeks.
So whilst searchers are inherently lazy (that's you and me by the way, sorry about that) search engines will continue to try and find a way to get the result we are really looking for by using additional information to help them best guess our intent.
Ironically though as they get better we get lazier and so when you're looking for your local Solicitor, Fork Lift Truck supplier or Car Hire Firm in Warrington you no longer have to put in the word Warrington, although it might help.
Try a search with and without the word 'Warrington' and see how different the results look.
How does this work for my business in Warrington?
Well, if you have a business in Warrington, we'd like to work with you if you feel that we could add value.
We're here to help. We've been doing this a long time and are still working with some of the customers we started with back in 2011.
We're not cheap, we should probably get that out of the way up front, but then we have been doing this a long time and have a great track record of success.
Call us today for free on 0800 285 1424 and let's start by talking about what you want to achieve and the timescales you are working to.
You might not be looking to rank for SEO Warrington but that fact you found this page shows exactly how this process works.
What can Aqueous do for my Warrington business?
If you're in Warrington and looking for a company who can help then we'd like to suggest you call us.
Why?
Well, here are five really good reasons.
We start with TRUST. We know we have to earn your trust and that's crucial if we are going to be working together long term.
We're not in Warrington, we're based in Sutton Weaver. Now we know that hardly sounds like a reason to call us but really, it is. If it helps we can tell you we're in Cheshire but either way we're less than twenty minutes away.
We're definitely not in city centre Manchester or Liverpool. This means that we don't pay the city centre rents, don't have high overheads and don't have any trouble parking in the morning!
We're really good at SEO. We know most firms say that but let's face it, if we weren't any good then you wouldn't be reading this, would you?
We're different.
Why are we different? Quite simple really, we're all about you.
We don't brag about the high profile clients we've got, don't put links on your site to yours, don't make useless promises of search engine domination and definitely don't guarantee to get you to the top of Google for just £99.
So what do we do then?
We work closely with you to understand your business, your objectives, your drivers and what makes a profitable enquiry. And then we work a plan to deliver that.
Quite straightforward really, but often missed by some other firms.
We work across Cheshire, Lancashire, UK, Europe and the Middle East but won't work with two firms who directly compete with each other.
Our key is to start with a clear content strategy and integrate this with all your other marketing activity so that your advertising money goes further and gains you additional business.
How much will SEO cost?
We're not the cheapest SEO Company locally and for that reason, we're probably not the best partner if you are a home start-up.
With SEO you pay for time and experience and with a Chartered Marketer on board along with time served SEO experts, qualified Google Certified PPC Managers, Digital Marketing specialists and content writers, we have more than enough experience to make a difference to your online presence. But as with any successful firm, the price reflects the quality of work you can expect.
So if you are looking for an SEO company who are local, accountable and that can make the difference to your business today just pick up the phone and talk to us.
We're friendly, accessible and happy to help.
Call us now on 0800 285 1424 and start making a difference to your digital profitability.
Professional Search Engine Optimisation across the North West and Cheshire including Chester, Ellesmere Port, Frodsham, Liverpool, Manchester, Middlewich, Northwich, Runcorn, St Helens, Warrington and Widnes.