With the act of searching online now more often than not, being referred to as 'googling', it's difficult to imagine a time when this search engine giant wasn't ruling the internet. 

Google really cemented their reign over online search in recent years when their name became a commonly used verb for searching for something online, but they haven't always been top dog!  Before Google's time there were plenty of search engines to choose from including the likes of Yahoo, Lycos, Excite, Dog Pile and Ask Jeeves… Phew, what a blast from the past some of those names are!
Google's innovation, complex algorithms and drive to deliver searchers with high quality, relevant search results have catapulted them to the top of the pile.  Their immense success has killed off a lot of their competition and thus given them a huge amount of power in deciding which webpages can easily be found online and which cannot.
But is Google's status as top dog unconquerable or could they be dethroned in the not so distant future?
Where does Google stand now?
Net Market Share research from April 2017 shows that Google still holds 77% of global search engine usage and names the next top 3 search engines as Baidu (8%), Bing (7.13%) and Yahoo (5%).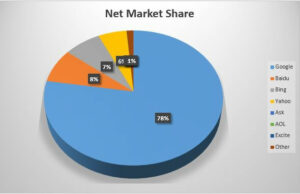 With Google receiving over 6 billion 500 searches a day worldwide, it would be a pretty impressive feat to topple them from the top spot any time soon, but let's take a look at the top contenders.
The Competition
Baidu
You can be forgiven for not having heard of Baidu before as they are China's answer to Google. Google is blocked in mainland China due to strict digital rules and regulations and instead, Baidu rules supreme with over 80% of China's search engine market.
Bing (Microsoft)
Bing is Microsoft's answer to Google.  Bing are currently working their socks off trying to encourage people to jump ship from Google and are seen as their main competition.
Microsoft's search engine lost some credibility back in 2011 when they were caught 'copying' Google's search results after a number of nonsensical searches returned the exact same results on both search engines.
Whilst many people sneer at Bing, they are said to use very similar ranking factors to Google.  They claim that it is easier to rank highly with them over Google as so many people are preoccupied with ranking on Google alone.
Microsoft are more and more frequently integrating Bing into the Windows operating system and Windows phones in an effort to win more users, and it seems to be working, particularly in the UK and the US.
Earlier this summer, in their latest attempt to win more users, Microsoft started offering 'Microsoft Rewards' to those that use Bing. These reward points can be collected and exchanged for freebies. Unfortunately, the move was seen by many as a desperate attempt to 'buy' users.
Yahoo
Yahoo receives a lot of help with their search facilities not just from their long-term partner Microsoft Bing, but also from Google themselves.  In 2015 Yahoo signed a 3-year deal with Google that gave them search ads, algorithmic search and image search for both desktop and mobile. Whilst these partnerships help to increase Yahoo's popularity and revenue, it also proves that sadly they just don't have the technology to outdo their competition at the moment.
Challenges for Google
Quality
Although Google are currently far out in the lead, there are a number of challenges keeping them on their toes.  They have recently been under fire for the quality of their search results after a series of embarrassingly questionable results were publicised in The Guardian.
Reputation
It is this kind of mistake that could spoil their reputation and have people turn to one of their competitors, or even alternative search engines like the privacy-friendly DuckDuckGo.
Mobile market
The mobile market could also have a big effect on Google's popularity.  With more and more people performing searches whilst out and about using their mobile phones there is plenty of scope for Microsoft Bing to win more customers on Windows devices.
For now, it doesn't seem like Google's top position is in any immediate danger as for the most part they set the standards when it comes to SEO.  However, if the search giant wants to remain the kingpin then they need to stay on their toes and keep on innovating and improving the quality of their search results to keep their reputation intact and remain at the top of the pile.
Want to find out more about ranking on alternative search engines like Bing? Get in touch with our SEO team here at Aqueous SEO to get optimised for Bing by calling one of our team on 0800 285 1424.